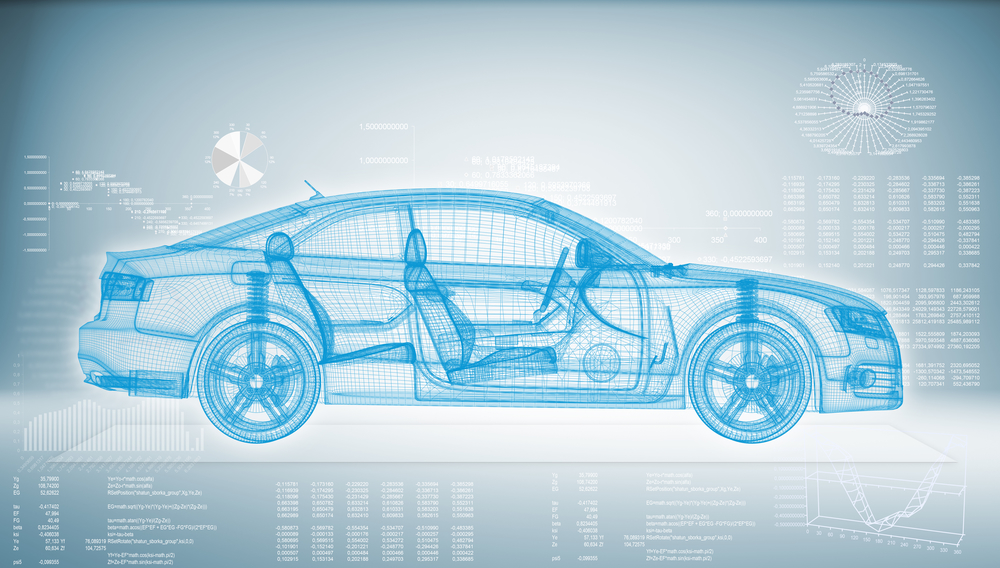 Today's digital marketing ecosystem is so complex that often the depth is lost on C-suite leaders who are not marketers. In several roles, my lead has asked me to explain how inbound marketing works and why it is important to CEOs and CFOs in order to justify the spend — and in the most concise way possible to fit into their packed schedules. In a sense, I was also defending my own job — depending on circumstances, marketing is often the first place looked at when budget cuts are made.
Over time, I developed an analogy to paint the digital marketing picture in the most relatable way possible: Inbound Marketing is your company car.
As a piece of machinery, it's made up of many things — an engine, body, wheels, gas tank, gadgets, and so on. All of these things are necessary parts of the car for a driver to mechanically propel the car forward and do so with monitored speed and awareness of surroundings. Basically, you need all of it to get where you're going.
Inbound marketing is your company car. Every feature plays a key role in moving your business forward by attracting passengers who choose to engage in your customer journey with you. Along the way, they build up their familiarity with your brand, which helps to establish their trust in you as a credible driver. If you execute a well thought out strategy, every stop they make along the way will (and should) bring them value. When the time comes to embark on another initiative, they're ready to hire you to quartermaster the trip.
I bet you have some or all of these goals on your list: awareness, sales lead generation, direct sales generation, website traffic growth, product or service education, and market recognition of your credibility. Putting your car out on the road will get you to all of these ends — here is how:
What makes an engine go? Your marketing content is the gas that feeds the machine. You need it to be consumed by your users to establish yourself as a thought leader in your industry. Thought leaders are seen as credible and up to date resources in their market and you need to be recognized as one to attract strangers who are potential customers.
Just like filling a gas tank, you need fresh content all the time. You can find gas whenever you need it, putting out fresh content means that information that is both relevant and helpful is ready for your future customers exactly when they're looking for it. This is incredibly powerful for two reasons. First, it eliminates having to compete for a user's attention at exactly the right time and place. Second, a user's own self-discovery of you and your content is the most trustworthy way you can reach them. After all, aren't you the most trustworthy person you know? People trust themselves and their own research more than they trust your most charismatic sales hire. Helping them find you first is the best way to gather the most qualified leads possible.
To be a bit more granular, there is more to helping your potential customers find you. In the same sense that publishing content regularly helps them discover you, we can optimize that content even further to make your website rank higher when they search for things relevant to you. Search Engine Optimization helps tell search engines how to rank you in a more relevant way as it relates to the search inquiry. This would be like taking your car through an automatic car wash. Recognizing a certain car becomes much easier when the paint is shiny and the body looks fresh and appealing than if it were covered in dirt. If you are searchable for the right things (most relevant and helpful), your miles per conten—I mean gallon will be much higher.
SO, gas tank is full. You have a content calendar ready to go so that creation is moving and things are ready to go on schedule. But once your content is published, how does it get distributed? The distribution of your content is what will drive you forward because it enables the user engagement you need (i.e. thought leadership and user self-discovery.) For this, you need an engine. And that engine is marketing automation software.
You need software to help execute all the moving pieces of your marketing communications. This is because the only way we communicate with anybody about our brand and products or services is through automated digital assets (your content) that is delivered to users based on the actions they take on your website or social media pages. You get to choose how the automation works based off of the most relevant actions for your business– and this also helps you make sure your content is both helpful and relevant when it is delivered.
Marketing Automation software manages all marketing channels in one place — this is everything 'under the hood' that makes your strategy go. These channels include:
– Search (organic search engines and search ads)
– Banner ads
– Gated content
– Blog posts
– Social media (paid and organic)
– Email marketing
– Text messages
– Affiliate/partner marketing
Within these channels (different lanes on your road), you reach your potential customers. Once they're engaged, you will start to see things like increased website traffic, sales conversions, lead conversions, and increased awareness and education about your brand and your offerings. This is where all conversations start — and when they're ready to speak to you in person (or have problems, questions, or general inquiries) you have a basis to begin real, human, in person discussions. They know your brand, they trust their own discovery of you, and it's your job to close the deal. This is your conversation while riding in your car, in whichever lane your passenger is in.
Channels all work together with each other to help the user find what they're looking for. A user can switch lanes at any time and however often they want, but they're still moving on a forward trajectory on the same road toward destination customer. This is why all lanes matter and why a good marketing strategy takes each one and all their nuances into account.
Our last major puzzle piece is the dashboard—dials and gadgets track everything that is happening. Your marketing automation software will report on everything happening under the hood, which is essential to knowing what is working with your campaigns and resonating with your audiences. This is also where you calculate your return on marketing spend in order to prove that your strategy is working.
To specify, the dashboard informs you with data regarding what types of things are working, not if digital and inbound marketing, as an overall department and company spend, is working. This data helps fine tune your messaging, helps you get to know your audience, and test different strategies. If you find all your metrics to be stagnant, it's what you're marketing and not how you're marketing it. For example, if you're looking to cut costs, your digital marketing efforts are not the place to do it. But perhaps shifting that cost spend around to create a new strategy is more beneficial to your business goals.
If your CEO is questioning if marketing is worth the spend, or if she is thinking that cutting the budget in half will make her business leaner while garnering the same return, simply ask, "How are we getting to the gold rush? Would you rather walk or drive?"