Background: 
In early 2020, Amazon launched Sponsored Brand Video advertising campaigns. This created new opportunities for Amazon advertisers to showcase their products beyond simply static images and a handful of characters.
Despite that, uptake seems gradual, which may be due to erratic performance from video campaigns on other digital marketing platforms. That's why Logical wants to share our take on this new ad format — what they do, how do they look, and, most importantly: Are they worth it?
All About the Ads
Similar to other Amazon advertising types, Video ads show on the Search results and Product detail pages on both desktop and mobile devices. Each ad includes a short video (6 – 45 seconds, with 30 being the recommended length) as well as a featured product (only one per ad). Users who click on the ad will be taken to that product's detail page.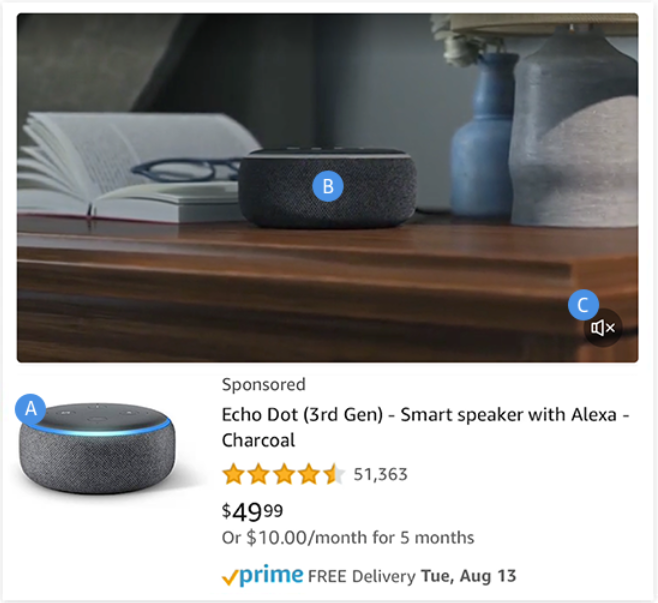 A full rundown, including video specs and best practices, can be found here.
Logical's Experience: 
Logical rolled out Sponsored Brand Video (SBV) campaigns for several clients in a variety of verticals in the second half of 2020. Initially intended as a test with the expectation (based on our own experience with video advertising on YouTube and Facebook) that click-through rates, conversion rates, and return on ad spend would be fairly low while cost per click, since Amazon video campaigns use keyword-based targeting, would be high.
For all clients opting into the test, we ran SBV campaigns in late September through Prime Day, specifically between September 20, 2020 to October 20, 2020.
Results — Campaign Types: 
The results of our run were very surprising. The table below breaks out Amazon's campaign types — Sponsored Product (SP), Sponsored Brand (SB), Sponsored Display (SD), and Sponsored Brand Video (SBV) — and compares the key performance indicators of Amazon among them.

Sponsored Brand Video subverted expectations on every horizon except for conversion rate. SBVs saw a 12% higher RoAS than other Sponsored Brand campaigns and an 86% higher RoAS than Sponsored Products  — close to what one would expect to see in a Branded Sponsored Product campaign. In other words, extremely strong. Again, Sponsored Brand Video campaigns use keyword targeting (as opposed to product or audience targeting), so the expectation would be for a higher ACoS (and lower RoAS) — and certainly not the best performer in terms of ACoS among the other keyword-targeting campaign types. The only better performer was Sponsored Display ;however we use that predominantly for Remarketing, which will almost always deliver an exceptionally high RoAS.
For CPC Sponsored Brand Video actually ended up being the least expensive campaign type — and this despite almost all the keywords being phrase or exact match, which are typically more expensive than broad. Likewise, for the initial launch, we actually bid around 50-65% higher for the Sponsored Brand Video keywords compared to the average bid for Sponsored Product and Sponsored Brand campaigns.
Conversion rate was the only key metric where Sponsored Brand Video underperformed, which was surprising not because it's a poor conversion rate (it really isn't), but rather because it shouldn't be much different from Sponsored Products, since their experience is identical  — both take the user to the product detail page, so what's the big idea?
There are actually several reasons why (that we'll go into below), but it should be noted that one key difference is products: Not all the products advertised in the Sponsored Product campaigns had a corresponding Sponsored Brand Video campaign, so it's not a true 1:1 comparison. That said, the products that did have an SBV campaign were those that tended to receive the most ad budget in other campaign types. So it's slightly skewed, but not so much as to negate any useful analysis.
The other big difference was…
Click-through rate. This one made us do the Curly Shuffle. This is a click-through rate many would be happy to see in a Google Ads Search campaign — much less on YouTube or Facebook, where the baseline is around 1/10th of SBVs. Even among Branded Sponsored Product campaigns, it's surprising to see a CTR of 1.00%. But yes, Sponsored Brand Video had CTR 12x that of Sponsored Products! (And it gets even better.)
This is extremely encouraging for anyone who wants to use Sponsored Brand Video to acquire new customers: The engagement is high (again, it gets even better). We don't have data for view rates, but CTR is a good indicator of overall interaction, so if people are clicking on the ads, it's reasonable to assume they're watching them as well, and that means that, with Sponsored Brand Videos, your brand has a lot more coverage to share its message. You should still be using A+ content and Storefronts to share the same message — as well as elaborate on it, but there's a lot you can say in 45 or 30 seconds — and with videos you don't have to get the user to click on your ad for them to see it.
But that also raises the one drawback of Sponsored Brand Video ads: Reach is low. For now at least. Amazon doesn't share impression share data, but in terms of volume, Sponsored Brand Video campaigns tended to yield the fewest total number of impressions and clicks of any other campaign type. In fact, it can be difficult to get the campaigns to spend the default $100 per day budget (which is partly why the bids for SBV targets tended to be higher than SPs). This is frustrating for large brands that want to scale their SBV ads, but it's good for smaller brands looking to distinguish themselves from larger competitors and not exhausting their ad budgets to do so.
Results — Audience Types (Where It Gets Even Better):
The last table adds another dimension of Audience type. During the run, we segmented our Sponsored Brand Video campaigns by Competitor and Non-Branded (I'm not going to use the Amazon term "Category"). We have yet to launch any Branded SBV campaigns because our original goal was to focus on new customers — but they do have their place, particularly if you're launching a new product line and want to let brand loyalists know.

For Competitors SBVs outperformed every campaign type on nearly every horizon — almost half the ACoS (and thus double the RoAS) and CPC of Sponsored Products with a nearly identical Conversion rate. And, again, nearly 10X the CTR.
Return was nearly 3x higher than regular Sponsored Brands, even when the CPC was slightly higher, and Conversion rates were almost 5x higher than regular Sponsored Brands.
For Non-Branded the results are similar but amplified: better RoAS, lower CPCs, but also the highest Conversion rate of all campaign types.
"We've been running ads on Amazon for years but it wasn't until switching to Logical that we actually started implementing Sponsored Brand Videos. We've struggled with some eligibility issues and sponsored videos have allowed us to work around those issues and continue to advertise the brand. It's also allowed us to tell a story that a simple image, price, and star rating can't always do. We've made video an integral part of our creative strategy moving forward, especially around crucial product launches."
Jack Peters, Brand Manager, Protein2o
Closing Thoughts: Sponsored Brand Video ads are, so far, the optimal campaign type for targeting new customers. Not only do they outperform all other campaign types in terms of upper-funnel KPIs such as click-through rate, but they also consistently outperform other campaign types in bottom-funnel KPIs such as RoAS. In other words, they're a must for your Amazon Advertising strategy. For more information or to get started with Sponsored Brand Video ads, please reach out to Logical at sales@logicalmediagroup.com