By: Jena Marble, Creative Manager
When approaching eCommerce for your brand, you cannot discount the value of thoughtful creative. When our Creative and eCommerce teams join forces, our clients consistently see higher returns – sometimes as much as 5 times. Jena Marble, Manager of Creative Services at Logical, will walk you through some examples of how this pairing of eCommerce and Creative can make a large difference in your brand's eCommerce performance.
Logical Media Group recently announced the rollout of our creative services offering, enabling us to expertly pair thoughtful design solutions with our digital channels including paid media, website development, and eCommerce. We're calling it the creative meets quantitative approach. You can read more about it in our recent blog post.
Just what are the benefits of having a fully-integrated creative team — tasked with conceiving original design solutions to producing dynamic creative optimizations  — when working with an agency partner? A lot, actually. And when it comes to eCommerce specifically (we will discuss additional channels in the future) we're outlining some of those benefits. 
We invite you to explore how Logical is able to successfully collaborate cross-channel—and with our clients—to drive brand awareness and sales.
1. We'll create a consistent brand experience.
We've said it once and we'll say it again (and again), your brand needs to be consistent. It's key to driving shopper loyalty and increasing sales. How do you do that on Amazon? One way is to build an Amazon storefront that allows you to bring the in-store experience online with a custom, immersive destination.
So what's a storefront? Think of it as a mini website built within Amazon using templates, tiles, and grids. You can create different pages and add videos, text, and images to more effectively tell your story, showcase your products, and highlight your values.
According to Amazon, "Stores with 3+ pages have 83% higher shopper dwell time and 32% higher attributed sales per visitor." That's huge! And even better? It's free for sellers enrolled in Amazon Brand Registry.
Our creative team will work with you to build a custom Amazon storefront using best-practices (like ensuring it's mobile-friendly or adding holiday-specific pages) while keeping your creative consistent and your audience engaged.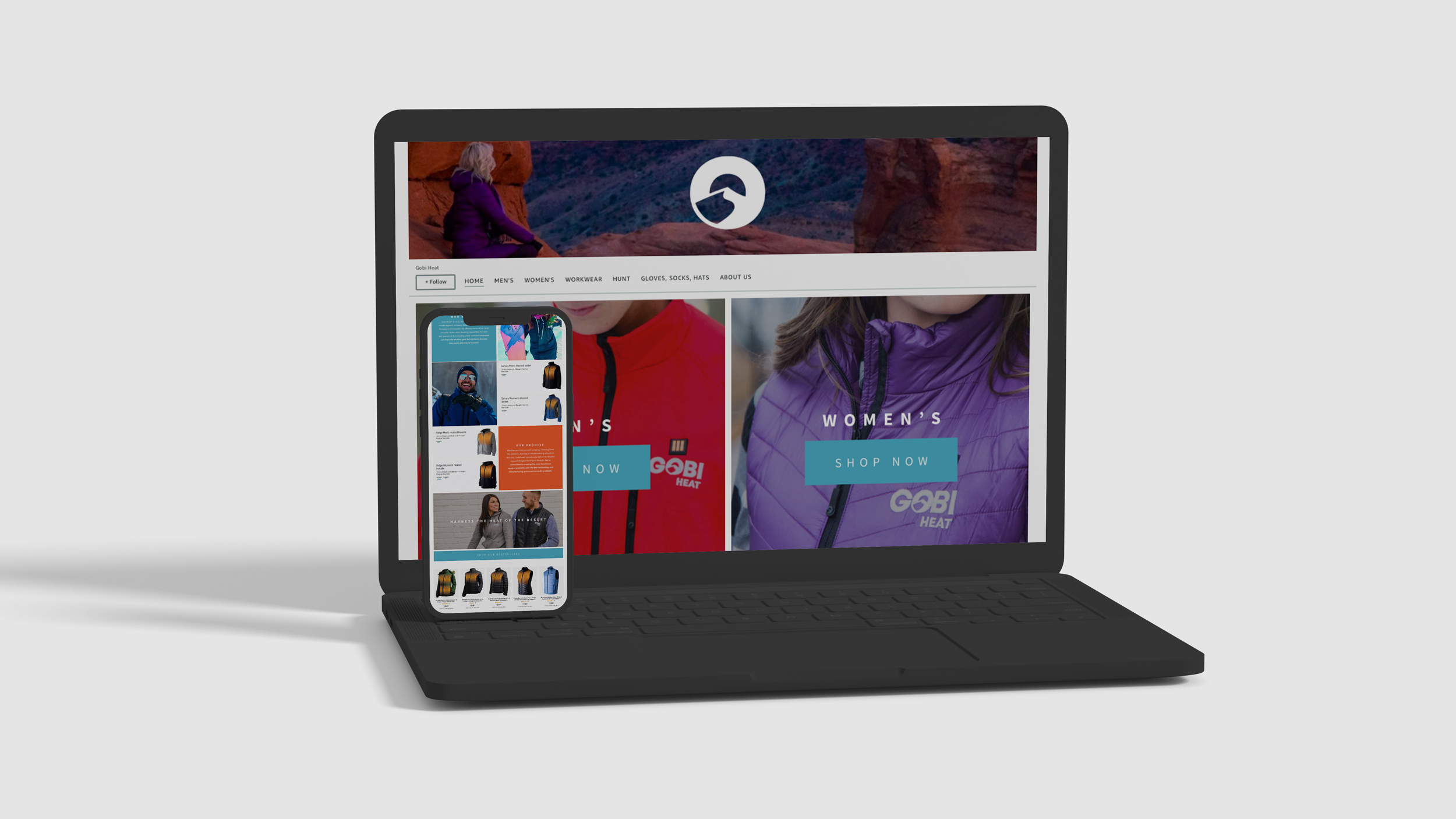 2. We'll make sure your creative goes the extra mile.
Working with our multidisciplinary creative team means you're working with a group of talented designers that knows what it takes to set you apart from competitors. 
Through our tested and proven discovery process, we ask important questions to learn the ins and outs of your brand's personality, ethos, competitors, ideal audience, and goals. We also audit your brand toolkit and asset library. 
Once complete, we use existing lifestyle and product photography, as well as color and font systems, to seamlessly incorporate new dynamic creative optimizations to your Amazon strategy. We use it within your storefront as well as…
Posts
You can upload assets as Posts, an image-first experience that allows you to show products in action—which in turn gives your audience a chance to easily visualize them. Stay top of mind, tag your product, help maintain a consistent presence, and inspire users to browse your feed.  Posts are available to sellers enrolled in Amazon Brand Registry—and yes, it's free!
A+ Content
A+ Content lives on individual product detail pages. It's a combination of compelling images, descriptions, videos, and comparison charts to help users make better informed purchasing decisions. When used effectively, it can help result in higher conversion rates, increased traffic, and increased sales. This (free!) feature also allows for a/b testing and is available to "professional sellers who have been approved as brand owners through the Amazon Brand Registry process, as well as emerging brand owners who are part of certain managed selling programs, such as Launchpad and Amazon Exclusives." (via Amazon)
3. We've got you covered on video, too.
Sponsored Brand Videos on Amazon stand out on desktop and mobile—and they let you promote individual product listings to users as they browse and search. Want to demonstrate your product? Looking to highlight distinct features? Using video best practices and keeping your brand top-of-mind (always), we create video that can accomplish these goals, while keeping content educational, demonstrative, and product-focused.
Our eCommerce team put this to work when they rolled out Sponsored Brand Video campaigns in the second half of 2020 for a CPG client. This created new opportunities to showcase their products beyond static images and a handful of characters. The result?
Return was nearly 3x higher than regular Sponsored Brands, even when the CPC was slightly higher, and conversion rates were almost 5x higher than regular Sponsored Brands.
The Logical eCommerce and creative teams offer customized strategies that match your business's unique goals. Working hand-in-hand, we utilize insights and testing to create brand experiences and deliverables to convert more of your audience into customers. And as the eCommerce platform continues to grow so, too, will your creative and revenue potential.
Want to learn more? Follow us on LinkedIn for news and updates, or reach out and say hello to the friendly, curious creative team.