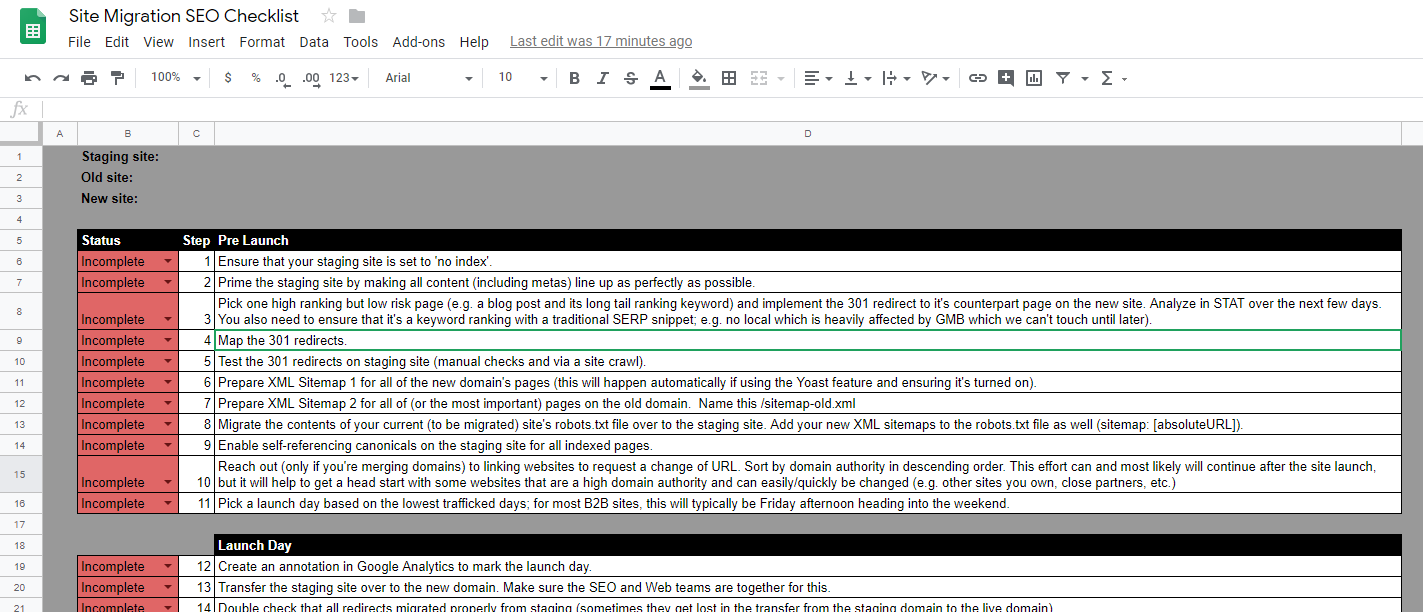 TL;DR – Do you know what you're doing and just need an SEO checklist for your site migration? Download our 30 step checklist in Google Sheet format here.
Migrating your website to a new domain takes an exorbitant amount of time, preparation, and skill to execute successfully. From our experience (we've done around a dozen in the last few years) it can take anywhere from 40 to 400 hours to complete properly. In particular, three overarching factors tend to drive up the time it takes:
The size of the site (this is the obvious one)
The cleanliness and organization of the site from a technical perspective
Whether or not you're merging/collapsing one website into another (e.g. due to an acquisition)
Due to this, we suggest giving yourself at least a couple of weeks to research and prepare for the migration and, in particular, how you'll attack it given your site's unique setup. If you're still in the research or preparation phase, we'll walk you through our process below.
Once you're ready, we have a checklist that you can download and make a copy of for yourself (in Google Sheet format).
---
Pre Launch Tasks
Ensure that your staging site is set to 'no index'.
Prime the staging site by making all content (including metas) line up as perfectly as possible.
Pick one high ranking but low-risk page (e.g. a blog post and its long tail ranking keyword) and implement the 301 redirect to its counterpart page on the new site/domain. Analyze (via whatever rank tracking software you use) over the next few days. You also need to ensure that it's a keyword ranking with a traditional SERP snippet; e.g. try to avoid something ranking locally (e.g. a map pack) which is heavily affected by GMB which we can't touch until later. Fun fact: this is one of the newer additions to our checklist but it actually stems from a 2011 Matt Cutt's video. Albeit old, this is an evergreen tactic that really helped us with our most recent domain migration performed in 2019.
Map the 301 redirects.
Test the 301 redirects on staging site (manual checks and via a site crawl).
Prepare XML Sitemap 1 for all of the new domain's pages (this will happen automatically if using the Yoast feature and ensuring it's turned on).
Prepare XML Sitemap 2 for all of (or the most important) pages on the old domain. Name this /sitemap-old.xml
Migrate the contents of your current (to be migrated) site's robots.txt file over to the staging site. Add your new XML sitemaps to the robots.txt file as well (sitemap: [absoluteURL]).
Enable self-referencing canonicals on the staging site for all indexed pages.
Reach out (only if you're merging domains) to linking websites to request a change of URL. Sort by domain authority in descending order. This effort can and most likely will continue after the site launch, but it will help to get a head start with some websites that are a high domain authority and can easily/quickly be changed (e.g. other sites you own, close partners, etc.)
Pick a launch day based on the lowest trafficked days; for most B2B sites, this will typically be Friday afternoon heading into the weekend.
Launch Day
Create an annotation in Google Analytics to mark the launch day.
Transfer the staging site over to the new domain. Make sure the SEO and Web teams are together for this.
Double check that all redirects migrated properly from staging (sometimes they get lost in the transfer from the staging domain to the live domain).
Double check that new XML sitemaps migrated properly from staging (if using Yoast, ensure this feature is turned on).
Double check that the robots.txt file migrated properly from staging.
Launch the new website (i.e. transfer it over from staging).
Submit the new redirect file on the old domain (to officially transfer over the old website).
Post Launch (Immediately)
Ensure that the new live site is set to 'index' (e.g. the 'no index' may have transferred over from staging).
Upload the new XML sitemaps to Google Search Console.
Manually flush your DNS (Start, Command, Run As Administrator, type: ipconfig /flushdns, Enter) so that you can view the new site quickly (this is only necessary if you've also changed hosting).
Double check (manually) a handful of different redirects to make sure they worked (e.g. check a services page, a blog page, etc.).
Run a 404s report in Screaming Frog: navigate to 'Bulk Export', 'Response Codes' and 'Client Error (4XX) Inlinks' option in the top level menu. This will allow you to see the internal source page of the 404s.
Run a redirect chains report in Screaming Frog and filter for 2 or more in the chain.
Run a canonicals report in Screaming Frog to ensure proper self-canonicalization of each page.
Update your GMB listing (only if you're merging domains) to reflect the new Brand in all of the relevant areas (e.g. don't forget the description). Update the website address as well.
Request a "Change of Address" in Google Search Console; this is only available in the old version, and it's not available at all if it's a domain that was recently verified.
Double check that all tracking pixels are installed and firing properly on the new domain.
Post Launch (Ongoing)
Check the Sitemap section of Google Search Console at least twice per day until the XML index report is ready. After the XML sitemap report is ready, investigate any potential indexing issues. Also keep an eye out for any changes in the 'Performance' section.
Reach out to linking websites to request a change of URL (to reflect the new domain; a continuation of step 7).
We wish you the best of luck! And we're here to help if you need it. Please contact us for more information.